LOST IN TRANSLATION _ Barabandi goes to Camping Castel San Pietro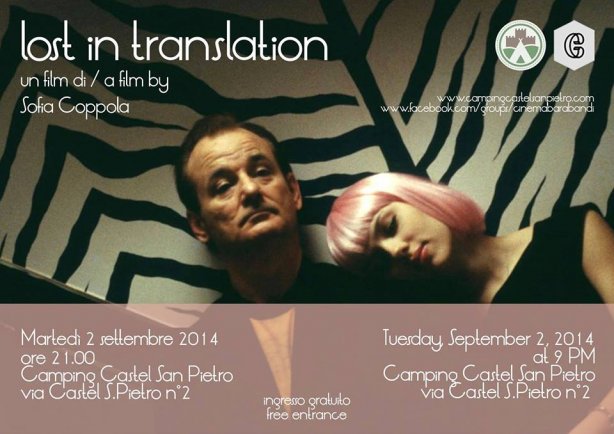 ITA
------------
Lost in Translation - L'amore tradotto (Lost in Translation, in italiano letteralmente Perduto/i nella traduzione) è un film statunitense del 2003, scritto, diretto e prodotto da Sofia Coppola con protagonisti Bill Murray e Scarlett Johansson. Il film ruota intorno al particolare rapporto tra l'attore in declino Bob Harris e la neolaureata Charlotte, nato in un grande hotel di Tokyo.
ENG
------------
Lost in Translation is a 2003 American comedy-drama film written and directed by Sofia Coppola. It was her second feature film after The Virgin Suicides (1999). It stars Bill Murray, Scarlett Johansson, Giovanni Ribisi, Anna Faris, and Fumihiro Hayashi.
The film revolves around an aging actor named Bob Harris (Murray) and a recent college graduate named Charlotte (Johansson) who develop a rapport after a chance meeting in a Tokyo hotel.
> Vai alla pagina facebook dell'evento <

Segnala la tua partecipazione